Wilmington NC & Myrtle Beach SC
Ceramic Pro RV, Camper, Coach
AutoworX Professional Ceramic Pro RV Detailing Services, Wilmington NC
Give Us A Call: (910) 228-5051 | Visit Us: 221-2 Old Dairy Rd Suite B, Wilmington, NC 28405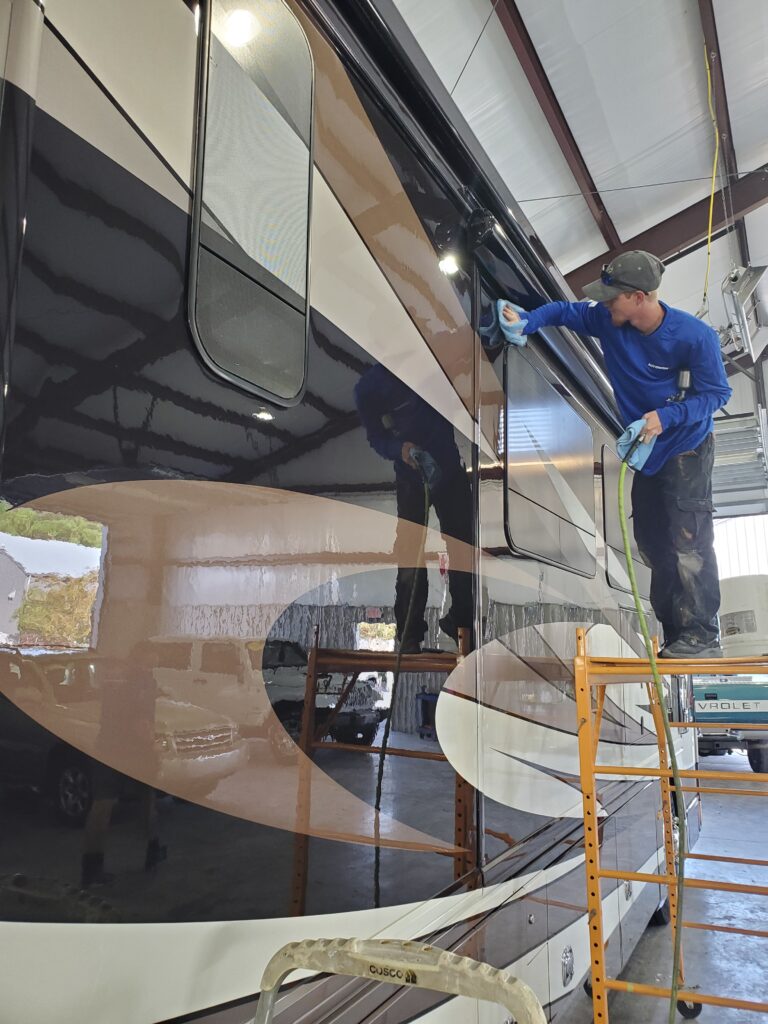 Ceramic Pro RV
Starting at ONLY $30 Per Foot!
The Best Ceramic Pro RV Certified Installers in Wilmington NC
Looking for the best Ceramic Pro RV certified installer in Wilmington NC? AutoworX Marine & RV Detailing has you covered! NEVER WAX AGAIN with Ceramic Pro RV Coach & Camper! Ceramic Pro will make your RV twice as easy to clean while offering the greatest protection for any RV Coach or Camper. Inside & out!
Seriously Strong Protection, Higher Resale Value. Ceramic Pro RV
Did you know that Ceramic Pro RV stops UV from fading your paint & interior!? Ceramic Pro RV creates an ultra-slick hydrophobic (that's a fancy word for "water repelling") surface that dust & dirt have a hard time sticking to. Any surface (inside or out) treated with Ceramic Pro will benefit from a long lasting protection. Ultimately resulting in a higher resale value for your RV Coach or Camper.
Certified Professional Ceramic Pro Installers in Wilmington NC
AutoworX Pro Detailing is a Ceramic Pro ambassador. We specialize in the absolute highest of quality Ceramic Pro RV installations, Ceramic Pro Camper & Ceramic Pro Coach installations. We have the highest of quality facilities, with the top of the line professional team of Ceramic Pro installers ready to help you.
View Our Ceramic Pro RV Packages
Optional Add-ons
A La Carte Add-ons for Ceramic Pro RV & Glassparency
Glassparency Glass Coating
Neutral PH Window Wash

Window Decontamination

Primer Polish

Application of Glassparency to Windshield

Complimentary 3 Month Window Recharge

3 Year Warranty!
STARTING AT $199
Wheel Coating
Polish & Shine Enhancement

Ceramic Pro Wheel Coating
$65 PER WHEEL
Get a Free Ceramic Pro RV Quote Today!
Looking for a fast & free Ceramic Pro Quote? Just fill out the form below & we'll be in touch with a fast, friendly, FREE quote for your Ceramic Pro RV project. Feel free to Give Us A Call at (910) 228-5051 or Visit Us: 221-2 Old Dairy Rd Suite B, Wilmington, NC 28405